Speed is of the essence when you're hiring. That's why Workable support is available 24 hours, 7 days a week.
There when you need us
24 hours a day / 7 days a week
Every Workable account has access to support from inside the app and via email, 24 hours a day, 7 days a week. No matter what your timezone, we're here to help when you need us.
Global phone support
If you'd prefer to discuss an issue on the phone, phone support is available on business days from 2:00 - 18:00 EST for every account type. Workable's support teams are based in USA, Europe and Australia.
We respond to most support queries in less than 25 minutes.
According to Zendesk benchmark data, the industry average is 21.1 hours
Priority support
Annual and custom plans receive priority support, which guarantees a response in under 3 hours. Custom plans also receive a dedicated account manager.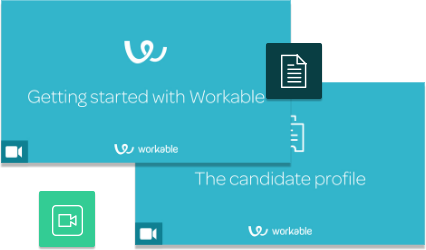 A comprehensive, online
knowledge centre
In addition to support from our friendly team, we have a full range of online guides and tutorials. Browse these to answer quick questions and discover pro-tips.