No matter where you find a resume, they're easier to manage in Workable. Upload or email resumes directly to your Workable pipeline.
Bulk resume upload and enriched candidate profiles
The Workable resume parser takes the data entry out of hiring. Just drag and drop resumes into Workable and see candidates appear in the hiring pipeline as rich profiles. The parser automatically collects applicants' public profiles from Facebook, Twitter and elsewhere to give the fullest view.
Your Workable candidate database will accept and manage resumes in multiple formats: .pdf, .rtf, .odt, .doc & .docx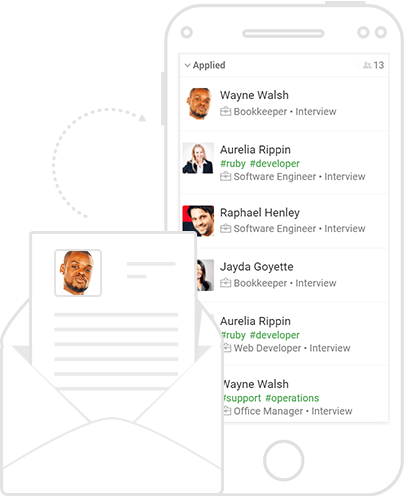 A mailbox for every job
If you've received a resume via email, every job in Workable has a unique email address. Forward the resume directly to the mailbox and Workable will create a candidate profile, adding it to the job's recruiting pipeline.
To advertise on niche job boards outside Workable's network, use the email address when directing candidates to apply.
Fully searchable resumes
Resumes stored in your candidate database are fully searchable. Source as many candidates as you need – for current or future positions – and keep track of them in Workable. In addition, use tags and filters to create specialized talent pools on the fly.